Anyhow, these are a few of them...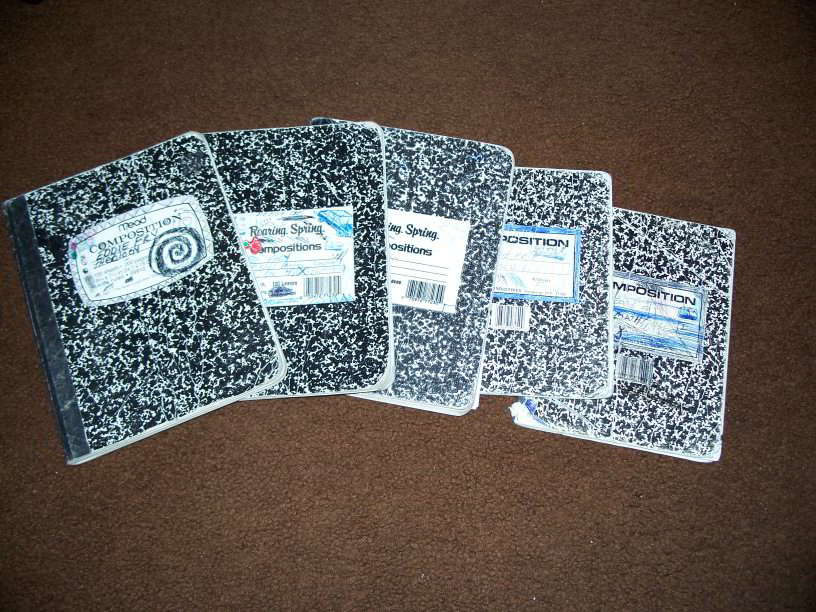 After finding these (and there's a lot more than just these. I think I got 20 or so of these in that closet) I thought about
This Destructoid Article
concerning their 2 year anniversary, it got me into thinking, "what could be possibly in these notebooks?" so let's find out.
First off, here is a concept drawing of a game I called "Backyard Commando's".
Basically it's an FPS with super soakers. It wasn't designed for calc use but for a mythical console that I dreamed up. (all I can remember from it is that it had 2 CD-ROMS, 1 capable of reading laserdisk, 2 Floppy Drives (remember no flash back then), wireless gameplay (I guess it would be something like AD-HOC wifi now, and was basically a way to connect to your friends from house to house) and had a 2500Mhz processor. It also emulated previous and current gen systems from the 2600 to the SNES And Genesis. pretty much any computer trumps those specs now, but in 94 that was an unheard of console at the time)
The only other thing I'd add here, and you can take it for whatever it's worth, is that I thought this out without ever playing an FPS. Someone mentioned Doom to me in school when I showed this to him and I asked "What's doom?" I didn't find out what an FPS was until I got Doom for the 32X. Actually I got the idea from Starfox, which I worshipped at the time. it's also why the hud has so many power bars instead of percentage counts. In fact the only percentage count is the dry amount in the upper left corner. there's 8 more pages from here talking about what super soakers would be in it and how they worked. In fact, there's a whole notebook somewhere dedicated to this one game design.
Here's the controller diagram for that said mythical system.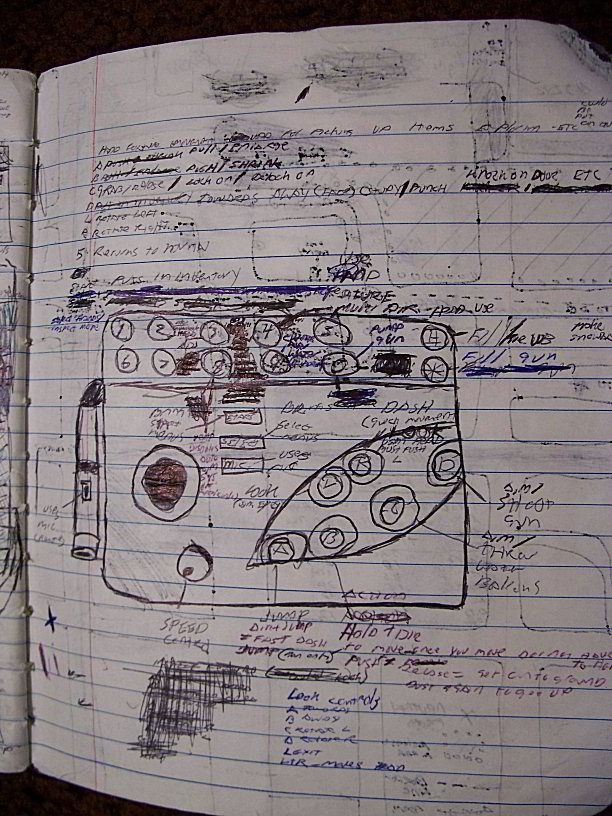 I guess I predicted Xbox live, considering the Mic on the side. The thing below the control stick is not an analog stick, it's a paddle knob. You'd use it to play 2600 paddle games (remember the controller is designed for a system that could emulate other consoles) although the placement is eerily in the same place as the digital stick on an xbox controller. it's designed to be part neo geo controlled and part SNES Advantage.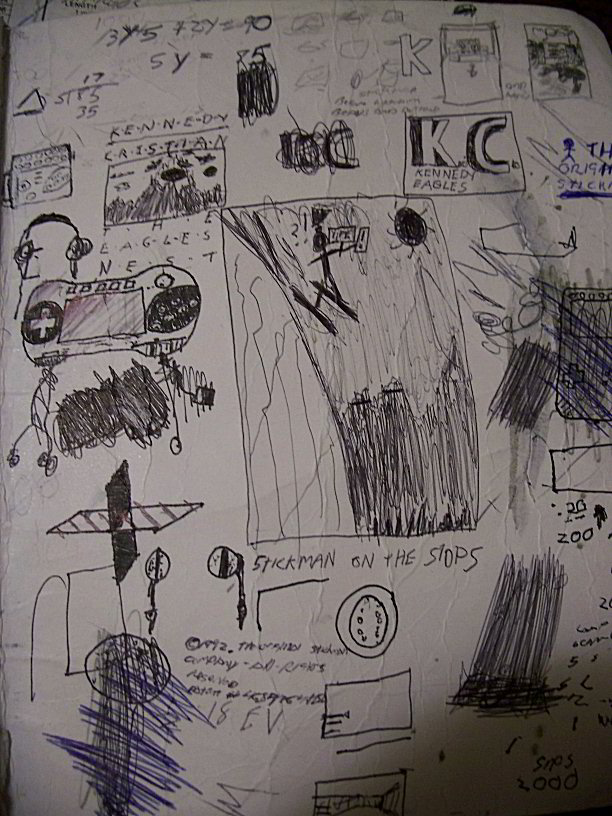 This image is on the back cover of the notebook and shows a portable version of the above mentioned mythical console. The only reason I'm posting this is I apparently foresaw the PSP. I believe that I designed this around the Atari Lynx, which had a similar layout, but I'm actually shocked how close it is to what the PSP looks like today. Other than a few button layouts, like the control buttons on the top instead of the bottom, and the ever returning Paddle control, it's scarily dead on.
The wires coming from the bottom were for the quadraphonic earbuds and the mic. you can see the buds next to the "stickman on the slopes" wording on the left. I don't think anyone uses this concept but who knows.
Speaking of stickman...
There's a ton of these all over every notebook I opened so far. There's also "The Original Stickman" logo's everywhere. It's what I called these comics for some reason. Anyway this is what I would see in hell. keep in mind this is before I got a job. Nowadays I don't fear hell anymore because I know Satan will just put me in a cubicle and send an unending barrage of stupidity towards me.
Oh yeah, I might as well say it now. If Me and Hiryu were in school post columbine, we'd would have SOOO been committed to some institution for fear of going on some insane shooting spree. Of course back then we knew the difference between reality and fiction. I don't think many people do anymore in this day and age, and think GTA is real life. Back then Mortal Combat was a game and a way to express frustration unlike Real Life, which was a place where you didn't Rip out people's spine and electrocuted people to death. When the Dean of Students saw Punisher IV in 96, He actually laughed it off and though it was funny. Today it would get you expelled. Possibly a criminal record.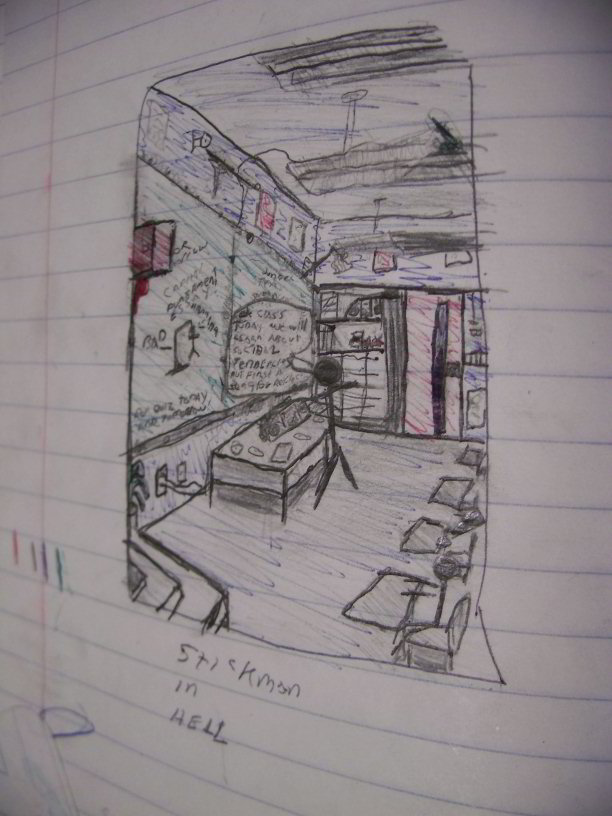 This is what Hiryu would see in hell. I'm pretty sure he hasn't seen this in at least 12 years and the spilt second he does he will know exactly who, what and where this is. The guy sitting in the desk would be him. In fact, this class pretty much spawned the KCHS Punisher. The teacher is saying "Ok Class, today we will learn about suicidal tendencies, but first a song for reflection" On the Board, it says "For Tomorrow." "Capital Punishment Essay." "hanging bad" and "Pop quiz today and tomorrow!" And Yes. This is how his class was. I couldn't make this stuff up if I tried, and if you still don't believe us, the entire class of 96 will vouch for us.
More once I return from sleep.